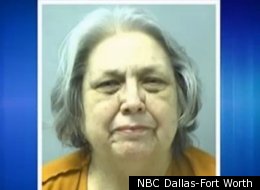 Don't live next door to 71 year old Wanda Derby if you are gay.  That's the lesson that her 25 year old neighbour learned when he was hit with her wooden cane.
Read some of the extracts from the Texas newspapers reporting this Lone Star senior's violence.  paula.
As The Fort-Worth Star-Telegram is reporting, 71-year-old Wanda Derby allegedly attacked the man, who has since been identified as Lloyd Guerrero by other media outlets, one week after Derby's son moved in with him. Derby is accused not only of striking Guerrero several times with the cane, but also choking him by placing the cane against his throat. She is charged with aggravated assault with a deadly weapon and the charge is enhanced as a hate crime, and is also charged with assault causing bodily injury, according to the Associated Press.  
Guerrero, a local actor who lives next door and is openly gay, says the attack followed several weeks of escalating tension after Derby previously outed him on her Facebook page. "I honestly don't know what she was thinking or what she even had in her," he told NBC Dallas-Fort Worth. "Honestly, it looked like something out of a TV show. And I will say, she hit pretty hard."
Guerrero's mother, who witnessed the attack, was also reportedly hit in the face.
The Dallas Voice notes that  Derby called Guerrero a "faggot" several times when talking to police, and claimed that he had AIDS and would give it to her son. Guerrero had marks and bruises on his throat and body and was treated at the scene.
Men Grew Up Together.
Guererro said he has known Derby's son since childhood. The man recently decided to move out of his mother's apartment, and into the apartment next door with Guererro's mother and uncle. Guererro lives in California but has been staying there for three months while he works in the area.
He said Derby's disapproval of him was clear, including threatening posts on Facebook, and the use of that same homosexual slur anytime she saw him.
"That word, she liked to use a lot, whenever I was walking around or if I was present anywhere," he said.
Guererro said Derby attacked as he was helping her son move more boxes Wednesday. He put up his arms to protect his head, but said he didn't want to hit the woman back.
My Son is No Longer My Son!
"My son Steven is no longer my son," she writes in one post.. "He has sided with the idiots next door to me and I guess he thinks they will take care of him. He will never get another thing from me or his dad. We have washed our hands of him."
Derby posted $11,500 bond and has since been released from jail, according to theStar-Telegram.  After he release, she posted "Don't mess with a Texan."  (Yikes)
paula:  I am sure that there are fundamentalist Christians out there that will pay her bills and the court fees for her upcoming trial.