Paula here.  When I "came out" I couldn't wait to get a tuxedo.  I went to an outlet store where there was a sale of men's suits and a section for men's tuxedos.  I found a wonderful tux; I looked in the mirror and I looked good! Well, in my opinion LOL.  Next was the challenge of getting a man's shirt for a tuxedo.  I went to the furthest side of a large city and walked into a man's store.  I asked him to measure my neck and with the appropriate size, I tried on a couple of shirts – wow!  Next, I chose a bow tie – no I chose several (red, black, purple and a turquoise that matched my eyes).  I wasn't overly confident when I first wore it to a MCC (Metropolitan Community Church) in Toronto.  By the end of the service, I got many compliments.  About three months later, a couple of lesbians starting to wear bow ties with jackets – and then, they wore tuxedos for MCC occasions.  My girlfriend at the time, loved me in a Tux.  She got ticket for a concert at a renown hall and I wore my tux.  In the washroom/toilets I passed by two women and posed by a mirror out of their sight.  I was delighted when one of the straight women in a dress stated, "She looks good in a tux.  I think I'll rent one."
Lea Delaria from Orange is the New Black Series. (OITNB) I am sure if the label "butch" has gone out of style or is not politically correct, but Lea Delaria is a butch.  She's a great actor and advocate for the LGBT community.  She may look tough, but did you see her break into tears when the Screen Actors Guild nominated OITNB as best comedy-drama.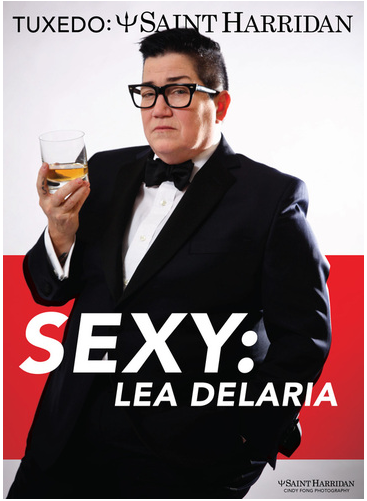 Saint Harridan specializes in "Masculine clothes and accessories for women and transmen. Their site is worth a visit.
 paula:  I love women:  in uniform, in classy dress (Kate, Duchess of Cambridge) and in tuxedos.  It safe to say, "I love women" they they are off limits, I'm happily married (but a girl can still look!)