We set off to visit the oldest of the two Great Wall sections outside of Beijing.
Mutianyu Great Wall
It was first built in the mid-6th century (55o AD) and the present wall was rebuilt over this earlier wall in 1401.
Description
The wall is mainly built from granite.  It's height is 7-8.5 metres high (21 ft. -24.5 ft).  The tops are 4-5 metres (12 ft-15 ft. wide).
Mutianyu Wall – Different from Other Sections:
One noticeable difference are the Watchtowers densely placed along this section.  They are spaced on this Mutianyu stretch of we all that totals 2,250 metre-long.    Inside and outside are merlons that allowed the shooting of arrows upon the enemy.
\ 
Built High upon Hills
•The Mutianyu Pass consists of 3 watchtowers, one big in the centre and two smaller on both sides.  These watchtowers were connected so that there was a connecting way to reach each one.
Picturesque Landscape
The Mutianyu section is woodlands and streams.
Getting Up to the Wall
There are three methods and four methods of descent.  A fit person can walk up the 4,000 or more steps.  Others chose to ride two-rider chairlift or a four-rider gondola up to the wall level.  The chairlift and gondola also helps people to descend.
Go back down on a single-rider wheeled toboggan on a winding metal track.  After a descent, the visitor can visit the Mutianyu village, hailed by the government as a model village.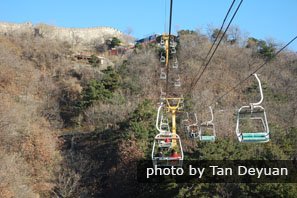 We suggest our customers take a cable car or chairlift up and down, because the cable car station is in the middle of the wall close to tower 14. Walking west from tower 14 to tower 23, you will see the most beautiful scenery. The path up goes to tower 8 or 10, which means you will need to walk an extra kilometer (half mile) on wall with comparatively plain scenery to get to the best part.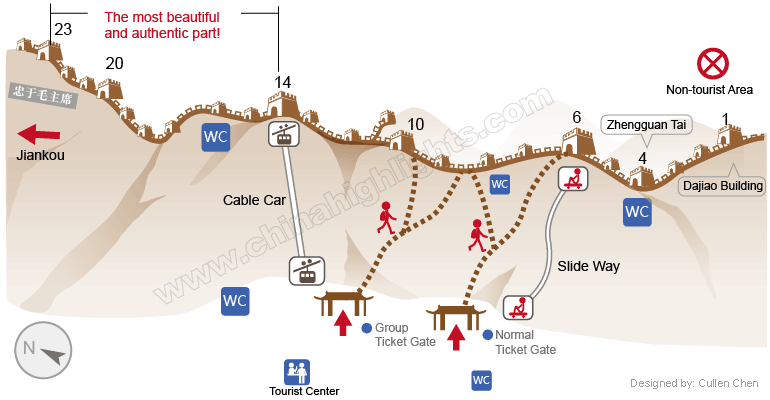 What to Wear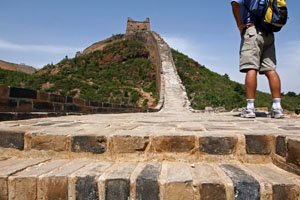 Dress for hiking and dress for the weather. Choose comfortable footwear with good grip and support for the feet. Layers of clothes that can be taken on and off allow for greater comfort and temperature control.
Wear/bring sun protection in the summer and dress for sub-zero temperatures in the winter. It can feel much colder on the wall than down in the valleys because of altitude and exposure.
What to Bring
Bring breathable waterproofs for protection from rain and wind. Umbrellas may be used at Mutianyu, as the ascents and descents are not difficult, but may be inconvenient in strong winds. Bring a camera and money for souvenirs and refreshments.
Bring snacks and water if you want to walk a long portion of the wall. You could have lunch in a local restaurant at Mutianyu or prepare a packed lunch before departure from Beijing.
Walking Conditions
The paths, wall top, and steps of the Great Wall at Mutianyu are well-paved with granite slabs, and walking conditions pose no significant risks.