Paula here.  You have known and followed Ruby Rose's career and love life for many years,. Then and again, you may have only discovered her (and lusted after her) when she plays Stella Carlin in Orange is the New Black.  Ruby Rose grew up in Australia and was born on March 20, 1986.   She will be 31 years old in 2017. Her own claim to public fame came in 2002 when she auditioned for Girlfriend model search.  She came second to Catherine McNeil.  The two were engaged to be married but later split up.
ASTRA Award for Favourite Female Personality.
2009 proved to be a good year for Ruby Rose when she won the above award.  Her popularity rose and she worked as a judge in the finale of Australia's Next Top Model.  From 2008 onwards,         Ruby Rose appeared on television and films.  The next year, Ruby Rose designed clothes in a collection called  Milk and Honey.  With her androgynous look, Ruby Rose modelled washed jeans, unique t-shirts and leather jackets.  Ruby Rose has many tattoos and while I am not personally a fan of tattoos, they seem to compliment this gorgeous woman.
 Girlfriends 
On 18 March 2014, Rose reported that she was formally engaged to designer Phoebe Dahl, granddaughter of author Roald Dahl.  This was her second engagement.  They broke up.  The same year, Ruby Rose came out as gender fluid.  He stated," I am very gender fluid and feel more like I wake up every day sort of gender neutral." As if to explain this statement, the public was given a release of a short film, "Break Free."  At the start of the movie, Ruby Rose is a very feminine woman and by the end of the movie, she is a heavily tattooed looking man."
Reconnecting of Ruby Rose to Jessica Origliasso.
They dated in 2008 and eight years later they became involved in a relationship.
In a post to her 292,000 Instagram followers, 32-year-old Jess shared a pic of a topless Rose, looking out over a secluded country view.
"There is something beautiful about disappearing somewhere no one else can find you — except the only person you never need to hide from," she wrote.
Ruby Rose has called Jess "the most amazing person."  And there are other comments by Ruby Rose.
"We just jam every night. We just play music and sing and cook dinner, and she's amazing. She's wonderful."
"She's always such a moral support for me and my moral compass," she continued.
And speaking of nights, there are some wonderful intimate moments of the two of them in the bathtub.
 Jess has words about Ruby Rose.
"Who needs sleep when your reality is finally greater than your wildest dreams," Origliasso shared in a post last year,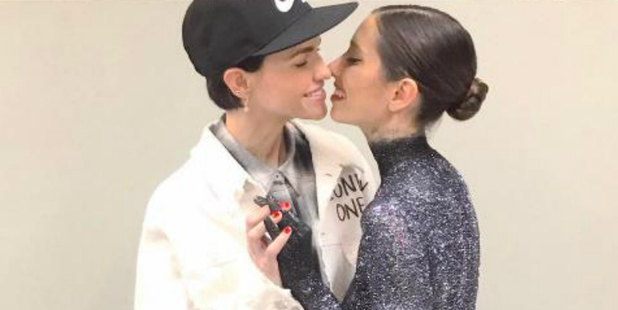 At almost the same time, Rose was sharing a little ode to her girlfriend from her Instagram account, showing her 10.5 million followers a picture of herself in a Titanic T-shirt that one clever fan had changed, so that she and Jess were in place of Jack and Rose.
"Someone changed my Titanic Tee and it's the greatest thing I've ever seen haha … @jessicaveronica I WOULD FIT ON THAT DEBRIS IF YOU JUST SHARED IT WITH ME!!!" she wrote.